Tony Valor Biography
Get To Know Tony Valor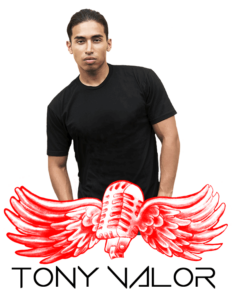 Tony Valor is an American singer, rapper, songwriter, record producer, actor, director, entrepreneur, and a motorcycle enthusiast.
At the early age of 21 Tony lost his father Antony Valor. For the last decade of Antony's life, the two worked inexhaustibly to bring up the family business, a record label that Antony had started in the late 1970's "TVI Records & Filmworks". Tony started off as just an artist working with his father.
After Antony's passing (2018), Tony became head of the label and created new subsidiary companies "TVI Multi-Media", "TVI Philippines Consulting Agency", & "TVI Music Library". Till this day he has 4 artists signed to the label TVI Records & Filmworks including himself.
Tony has been inexhaustibly determined to keep his father's legacy alive and to do what he loves most, creating music. Under his label he has a reggae artist called "Vadah" aka "Da Kraken", a Reggaeton/Latin artist called "Gaby B" and a Hip Pop/Rap artist called "Judan".